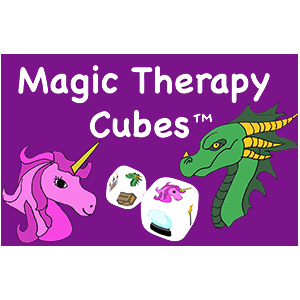 Based on the therapeutic miracle question, "If you could wish for anything, what would you wish for?" Magic Therapy Cubes helps identify underlying issues that children and teens often face in their everyday lives in the areas of home, school, relationships and peer pressure.
Yes magic happens in therapy! As a Licensed Professional Counselor, I have always tried to find creative ways for kids and teens to open up and talk about difficult issues and found games to be the most powerful way of self-expression.
Magic Therapy Cubes is not only fun, but a great therapeutic opening into the world of kids and teens.
Now available for only $19.99! (order below) Open up your client's imagination into the world of fantasy and magic as you discover their inner wishes and desires for a happier and healthier life. Includes dice, cards and full instructions for quick play.